Want to boost what you are already doing on SoundCloud? Then check out this article we've put together so that everyone can know about a new partner of ours that we are totally excited about: Orfium, a very valid alternative, or even addition to what you might already be putting out there on SoundCloud. There's no doubt that SoundCloud has changed since its inception. What was once a free sharing type website – in tune with how the music industry itself is ever evolving – has now become more of a major, downright business featuring content creations. Amidst all the chatter being made by indie and established artists alike regarding whitelisting and/or copyright issues, we must all face the fact that SoundCloud as a business has shifted its original focus elsewhere. In light of this, Beatrising has recently integrated with a start-up called Orfium which just keeps evolving and improving with each passing day. We were lucky enough to talk a bit about Orfium with founders Chris Mohoney and Drew Delis who filled us in on their new platform, and beyond.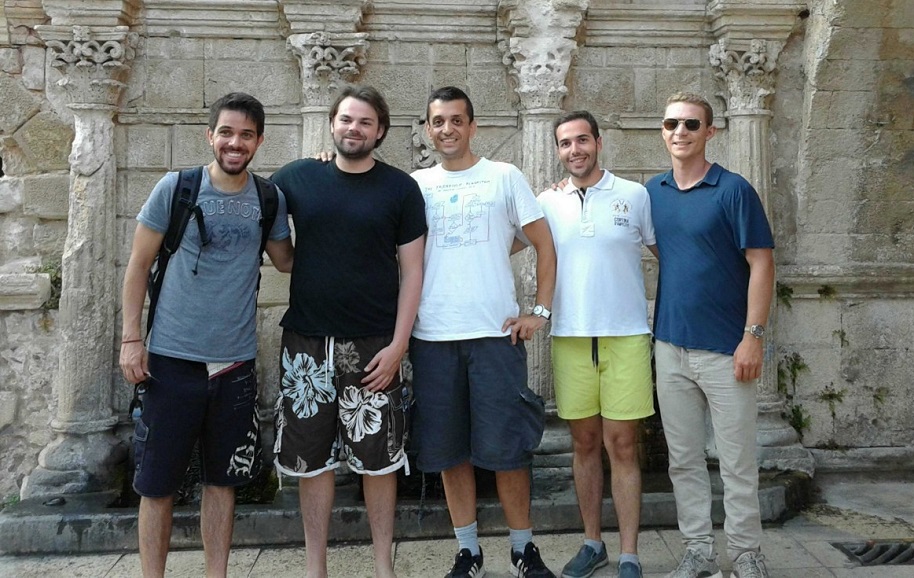 (Chris, Drew and part of the development team. From left to right: Aggelos, Chris, Michael, Dimitris, and Drew).
Chris, Drew, please key us into how this whole Orfium thing first came about:
At the time that SoundCloud came under fire for copyright, remix, and takedown issues I (Chris) was working for an administrator for YouTube's Content ID system representing over 6 million music copyrights for a number of labels and publishers including all of the major publishers. At the same time Drew was attending law school and Pepperdine specializing in music rights and digital IP. Spotify was just coming into the spotlight as well, naturally met with a lot of skepticism from the industry along writers and publishers who were not happy with the royalties they were receiving. We spent many months discussing the current and future state of the industry, SoundCloud, and Spotify with some of our artist friends.
At first we thought SoundCloud would just implement a solution that would work just as well as YouTube's Content ID system, but then after seeing their problems worsen we realized their monetization model was incompatible with such a solution. They needed to be able to monetize an individual piece of content but unlike YouTube which can generate significant revenue from video ads, SoundCloud's ad revenue could never be significant enough to satisfy rightsholders so they needed to find another way. Unfortunately they based their entire revenue model on charging artists to upload their music (a practice we feel is completely backwards since a restaurant could never get away with charging farmers to use their food in the menu) rather than monetizing the consumption of music by listeners. This meant that SoundCloud had no way to attribute revenue to a specific piece of content and appropriately assign it to the original rightsholder. After looking further into this we realized SoundCloud was not capturing the proper metadata and copyright information about uploaded music and therefore would never be able to monetize it. In fact SoundCloud was initially started with the mission to be the world's largest database of sounds and it seems as if it never properly adapted their architecture to suit the needs of the music industry once it became used as a music platform. One can only speculate what went wrong but maybe it was a lack of music industry experience or maybe they gave up too much control to investors who did not have the patience to invest in rebuilding the system.
Based on everything we had learned and the information we had, we started to imagine what an ideal platform would look like for the music industry that elegantly integrated every useful function for all participants. What we came up with was a hybrid between SoundCloud, iTunes, and Spotify with a back-end system built for music rights management and licensing. It would have all of the discover, listening, playlist, and sharing functionality a listener could ask for while providing artists and rightsholders a command center with unlimited flexibility to promote and monetize their music using every possible form of digital music revenue including digital downloads, streaming, licensing, remix monetization, and even off-site rights management services including YouTube Content ID monetization.
What keeps coming up in discussions about music streaming and discovery platforms is the fact that SoundCloud now comes up short. Your platform clearly illustrates just how intent you guys are on improving the search algorithm as a priority. Can you tell us in a nutshell how it will be better?
There are many ways to discover music all of which either involve some style of browsing or searching, which can be done horizontally which is where you want to see many categories of results at once, or vertically which is where you want to see a very specific set of results, both of which are made more powerful by extensive filtering options and an optimal presentation. On Orfium you can browse or search filtered by category, subcategory, mood, instrument, vocals, and license type. There are thousands of possible filter values to choose from which can be applied in hundreds of millions of different combinations, so for example you could easily filter for "happy electronic music with female vocals" and will get back a tiled view with lots of organized results similar to Netflix, or if you also include a search keyword then the results will be returned in a single feed organized by relevance. We are constantly experimenting and making improvements to all of this but even as a work-in-progress it has more useful functionality than any other music search engine we are aware of.
Are there any similarities at all between you and SoundCloud? What are some of the factors that might, on the other hand, set you apart?
Just about any functionality that SoundCloud has we also have along with a lot more that SoundCloud doesn't do. We have all of the essential social features, profiles, following people, feeds of content pushed to followers, comments, and reposting. SoundCloud's interface for listening and discovering music is pretty far behind, in this regard the interface works more like Spotify where you have one-click access to your playlists and saved music. We also offer a complete monetization system with unlimited flexibility and artist control that is built right into our direct upload gateway. One thing that has always shocked me is that SoundCloud does not distinguish between albums and playlists, which is terribly disorganized from a consumer standpoint. There are also many little things that add up such as the ability to tag other artist on a song so it will appear on both profiles with no duplication of content nor splitting of stats, so all stats are aggregated on only one copy of the song that counts for everyone tagged on it. Another popular feature that is built-in that requires a third party app to achieve on SoundCloud is the ability to limit downloads and access to music to only your followers.
Will people get bogged down with copyright related issues like they do on SoundCloud?
Nope, unlike SoundCloud we built our system to properly track and manage music rights from day one to ensure the rightsholders are paid and happy. This allows us to abstract and assign monetization rights from bootleg derivative works to the original artist who can even specify at their discretion a revenue share with the remixing artist. In addition after the original track is tagged on the remix we display the remix on a related tracks tab on the original track's page, which gives the remixing artist a little promo in return for letting the original artist control the monetization rights on the platform, which is an ideal win-win situation for both.
How is it possible for people to cash in with Orfium?
A lot is still currently under development but currently the platform supports selling individual tracks and albums, royalty free licenses, and we also have a direct deal with YouTube that allows our users access to the Content ID system in order to fingerprint their sound recordings and compositions and collect royalties from any video on YouTube that contains their music. We also have access to Facebook's version of Content ID and are just waiting for Facebook to launch the monetization system to go with it. In the future we plan to offer publishing administration services where we will actively source and land big publishing deals. We also plan to offer commercial streaming subscriptions for brick-and-mortar stores, restaurants, and similar business to license music directly from artists for broadcast, so artists can get paid accurately and immediately rather than waiting 9 months for an imprecise check to show up from a PRO. We are still actively focused on adding more music to the library, but as more of the industry hears about us and comes aboard we will shift more towards scaling and consumer marketing which will include streaming and radio subscriptions once we have a large enough library to justify them.
DO YOU NEED HELP TO PROMOTE YOUR MUSIC? WE'RE GLAD TO HELP YOU!